---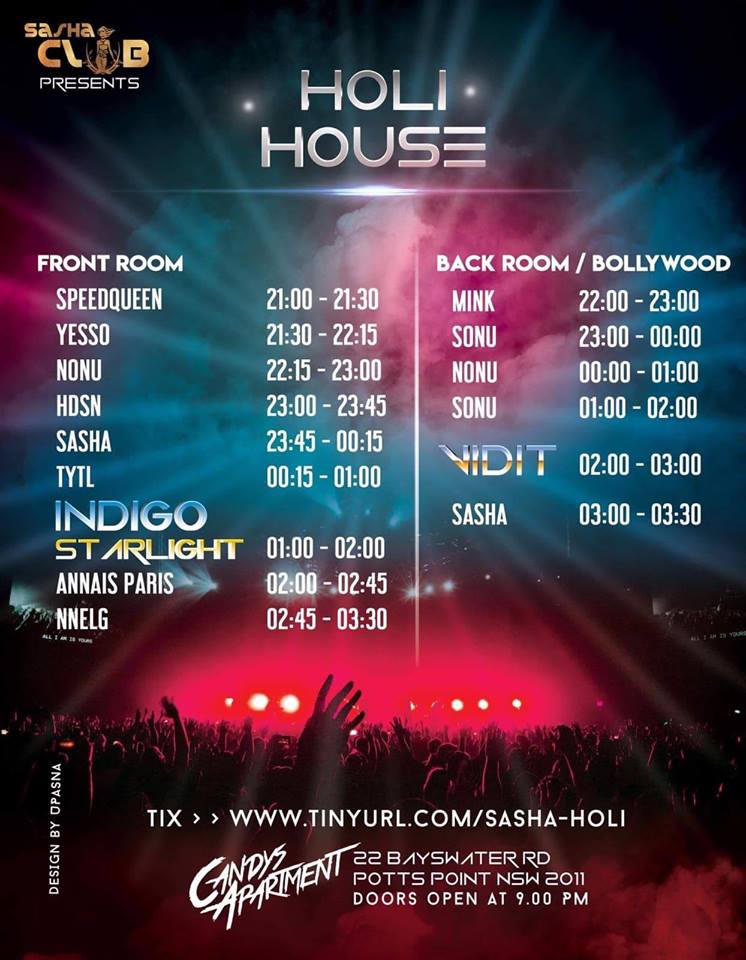 ════ ▄ █ ▄ SASHA CLUB PRESENTS ▄ █ ▄ ══
HIPHOP HOLI HOUSE Feat Indigo Starlight
▀▀▀▀▀▀▀▀▀▀▀▀▀▀▀▀▀▀▀▀▀▀▀▀▀▀▀▀▀▀▀▀▀▀▀▀
A night dedicated for you to celebrate love & friendship on the Holi weekend.❤
Join the forces of 2 successful and charismatic female artists Indigo Starlight. They have harnessed their funky and fresh charisma as a surprise package to hit the Australian nightclub scene.
Drawing inspiration from artists such as Pink, Lady Gaga and NERVO, these pocket rockets have always added a personalised touch to their shows using their repertoire of talents and knowledge in music. Incorporating a Keytar into their sets, this savvy duo continue to uniquely showcase an element of live performance.

This multi-talented duo has already built an enthusiastic following having toured Internationally throughout China as well as having performed in some of Australia's most prestigious and popular nightclubs such as the Ivy, Marquee Sydney, Lucky Thursdays, Home Nightclub, Light at Crown, Family Nightclub and Inferno Nightclub to name a few.

The musical edification of Indigo Starlight is set to take over the scene with their captivating flair that will leave you lovers of dance begging for more.
▀▀▀▀▀▀▀▀▀▀▀▀▀▀▀▀▀▀▀▀▀▀▀▀▀▀▀▀▀▀▀▀▀▀▀▀
======★ ★ FRIDAY 22nd March★ ★===========
▓▒░▓▒░▓▒░▓▒░▓▒░▓▒░▓▒░▓▒░▓▒░▓▒░▓▒░
MUSIC: ✦ HIP HOP ✦ HOUSE ✦ BOLLYWOOD ✦ PUNJABI CLUB
DRESS CODE: ✦ WHITE ★ SMART CASUALS
►► DOOR POLICY ◄◄
→ All guests must be 18 years of age or over.
→ Please ensure you have valid Australian I.D or a Passport
→ 2AM LOCKOUT 3AM LAST DRINKS
Management reserve the right to refuse admission to the venue.
▓▒░▓▒░▓▒░▓▒░▓▒░▓▒░▓▒░▓▒░▓▒░▓▒░▓▒░
---